About Casa Montana
A Spanish villa in the midst of tea
A Spanish styled villa, sitting on a mountain and looking into gorgeous views. A beautiful landscape and luxurious spaces defines this home
built-up
3324 sqft
land
23.75 cents
bed
4
bath
4
powder-room
1
quarters
2
car-park
2 cars
common-water
yes
Salient Features
SERENE AND TEA
Amidst lush tea plantations and valleys, E11 Casa Montana is part of the Sua Serenitea gated community in Coonoor. Peace and tranquility intertwines with the chirping of the birds, rustling of leaves and valley gales gushing past the home from time to time. A well landscaped garden homes trees and invites birds for a mid-day feed.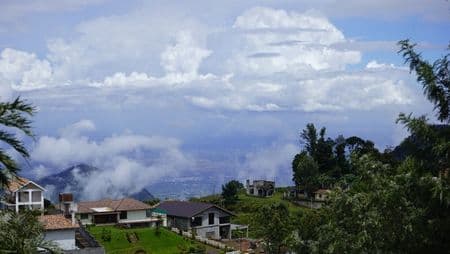 MEDITERRANEAN STYLE VILLA
Stimulated by the cultural influences from the Mediterranean region, the villa has earthy coloured tiled roof, arches and ornamental details like the use of multi-coloured tiles. With a brown roof tile, Spanish chimney and arched windows, this Spanish home stands apart from the rest. All interior spaces blend well for comfort. Together, all the elements, create a house with character and charm.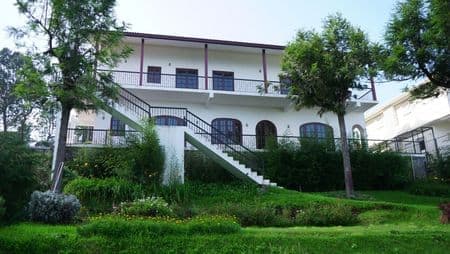 LARGE ROOMS AND SPACES
High ceilings and a wood-spaced false ceilings improve the aesthetics of the rooms. Large aristocratic living & dining rooms form the heart of all activity which open up into a wide covered balcony and the valley to enamour you.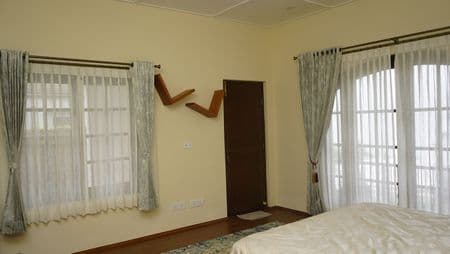 MODERN COMFORTS
A well insulated home with false ceilings and double walls, the home guarantees your comfort inside. A covered car park for 2 is assuring even in rough weather. Elegant sanitary-ware and ceramics add to the life of each space.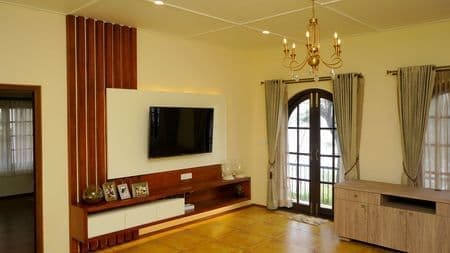 BREATHTAKING VIEWS
All rooms in the bungalow open into the verandah overlooking the lawn. The breath-taking views of the valley and spectacular sunrise from the balcony are noteworthy.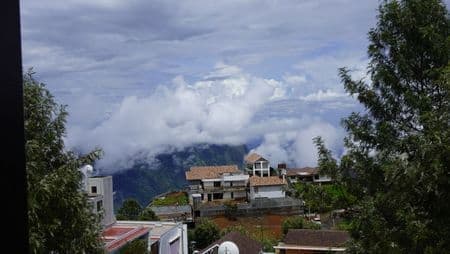 FIXED FURNITURE AND GARDENS
With the fixed furniture of the kitchen and wardrobes complete, Casa Montana needs little custom inputs for you to move in. The landscape is also complete with 2 sets of gardens, one at the entrance and a private lawn on the lower turf. A bird feed corner and featured rocks add to these landscapes.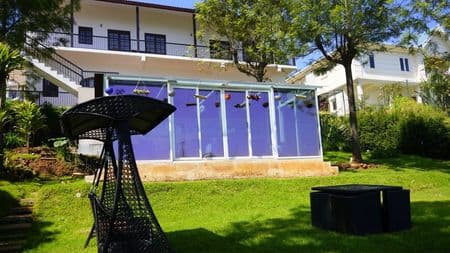 What's Special at Casa Montana
E11 Casa Montana is a spanish style villa at Sua Serenitea, Drumella. The design has blended with necessary elements in the architecture to withstand the climatic conditions of the Coonoor Kotagiri belt. The house is one of the largest homes in the region with 4 bedrooms and 2 independent servant quarters.
Sua Serenitea is easily accessible to both Coonoor and Kotagiri. Most properties here look out into the Coimbatore valley view. The gated community offers security, a good water supply and a peaceful neighbourhood.
A large garden on the lower level and a mini garden on the upper side cater to the outdoor needs of the house. The large verandahs are a brilliant feature of the house. Casa Montana comes semi-furnished with the lighting, bathrooms and kitchen complete. The bedrooms have built-in wardrobes with teak wood shutters.
Similar Properties for Sale currently
Check out more other homes available in the Nilgiris similar to Casa Montana.